We went to Yuanyang for its beautiful rice terraces (梯田), but slowly we discovered what attracted us most is the hospitality of its people and its simple way of life.
According to Lonely Planet, Yuanyang's rice terraces is one of the top attractions of the province, an UNESCO World Heritage Site and the best time to visit is now. But it also left out so much more.
In my search for accommodation, I came across this review of a guesthouse which said the host gave private tours free of charge and its location was a bit off the main attraction. Without any hesitation, we set the guesthouse as our destination as we always prefer accommodations to be a little out of the way to enjoy some peace.
We drove six hours (360 kilometres) from Puzhehei (普者黑) to the Duoyishu Village in Yuanyang (元陽多依樹村). The last forty-five minutes of the drive was continuous winding road going uphill. We didn't realize before we would be living in high altitude. My first reaction was wondering if our bird Lavender would be okay. Would a bird get altitude sickness?
When we drove through a small archway to enter the village, it felt like entering something magical and we should leave our past life behind. Indeed, from that moment on, we changed our daily routines entirely. We stopped in front of a iron gate and behind was a three-storey building. I could see a lady dressed in local dark coloured clothes rushing down to greet us.
Akie followed the lady to check out all the rooms and picked the one on the second floor which was also the least expensive one as it didn't have a balcony and a bathtub. It turned out that she has picked the best room in the guesthouse which was warmer and quieter than the others and with a great view.
Another lady turned up when we were unloading our pets and suitcases. The two ladies were surprised by how much luggage we had. We explained that we planned to stay for quite long and we had two pets.
When I entered the room, oh my, I was immediately stunned by the view. The large floor-to-ceiling glass panels in our room was showcasing the beautiful rice terraces like jewellery. We stood there for a few minutes to take in the gorgeous view. The fields were filled with water and glittering with lights radiated from the sky above. Even Daisy walked along the window to take in the breathtaking view.
It was about five thirty now when we finally settled down the cat and bird. We were about to take a much needed rest when someone knocked on the door. An elderly man, Mr. Ma said it was time to watch the sunset. Even though, we found our new room comfy and wanted to stay, we could not say no to the eager gentleman. So we drove for about 15 minutes and along the way, we went past a couple of rather basic but lively villages and I made a mental note that we must visit them later. A handful of people with cameras and phones were already there when we arrived at the sunset spot.
The sun slowly going down and the sky turned golden. The last few sun rays reflected on the water in the rice terraces. There were only a few specks of clouds and it was so beautiful and quiet. But the young boy next to me was nagging her mum and said he was bored. Therefore, just like any sensible human being would do, I kicked his ass and he did find some excitement inside the water. Oh well, too bad it didn't actually happen.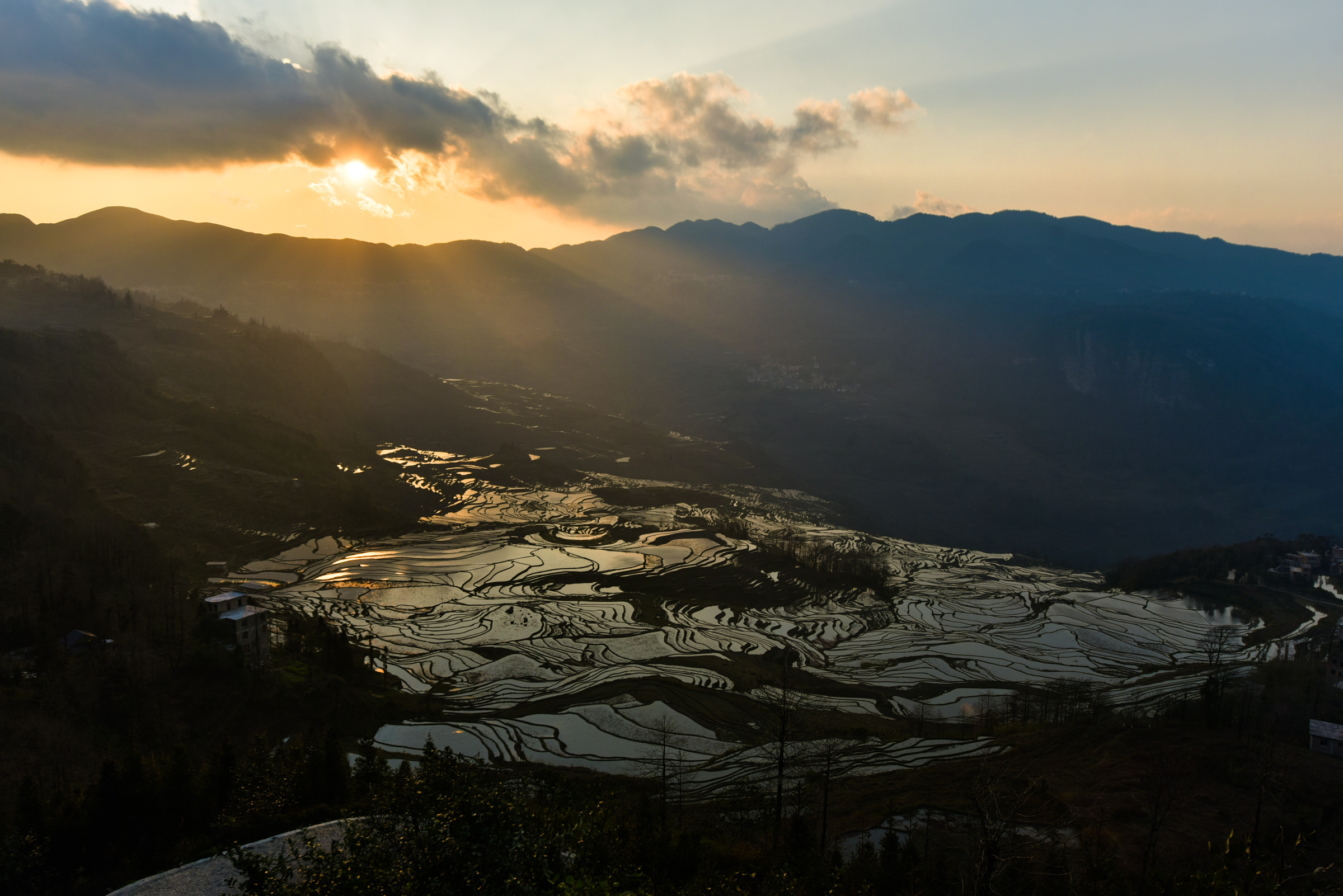 We thanked Mr. Ma and told him that we enjoyed the beautiful sunset so much. But then he said that it wasn't good. There should be just enough wind, not too much and not too little, so that the clouds would be above and behind the sun. The sky and the rice terraces should be completely golden not just partially. Wow, his standard on sunset is really high, like astronomically high. Just a few hours upon in Yuanyang and we were already blown away by its beauty.
Back to the guesthouse, the two ladies were waiting to cook dinner for us. They speedily made us a peanut soup and two dishes with some fresh homegrown vegetables. At dinner, we learned that they are all from the same family, Mr. Ma is the father of the first lady we met and the other lady is his daugther-in-law. As we were the only guests for the night, we talked for quite some time and we were so looking forward to being looked after by the Ma's family in the coming days. Before Mr. Ma left for the night, he said we need to wake up the next morning at six and be ready for the sea of cloud. Well, he didn't ask, it was an order, so we had to obey no matter how lazy we were…
I was so glad that we found this unearthly place and happily dozed off.
Accommodation: 元阳甲方驿站, 新街镇多依树村