Previously, I talked about our Yangzhou friend Niu Niu (妞妞) who runs a quaint coffee shop in the old part of the city. We have also become best buddies with her super friendly frenchie named Monkey. He is like a heavy breathing mini-me of Niu Niu – always full of sheer energy and bundle of joy.
Each morning, Niu Niu posts Monkey's photos in our Wechat group – a subtle way to remind us that he is waiting for us. When we arrive at the cafe, we often wait quietly outside the front door and peep through the glass – as soon as Monkey sees Kin, a huge grin comes on his face and he jumps so high to greet Kin as if he's bouncing on a trampoline.
Calling one's dog a primate is confusing but Monkey definitely lives up to his name with his lively nature and mischievousness. And yet he is exceptionally zen when he sees other dogs and cats. He is never aggressive and he loves children. Kin soon takes on the role as Monkey's personal trainer. He is highly food driven and soon learns all kinds commands to earn his snacks. He often tilts his head and wonders what he needs to do to get his reward.
Within a month, Monkey the hyperactive fur ball has transformed into a super well-behaving dog. When Kin asks him to sit still and puts snack right under his nose, he sits longingly with drool dripping in turbo mode and waits for his cue. He's very cheeky and would perform in one-go the whole sequence of sitting, lying down and playing dead just to get his favourite dried sweet potato snack.
Niu Niu's friends are all surprised by this new version of Monkey and can hardly recognize him with his leaner curvy physique – thanks to all the daily walks and energetic play time. We are all amazed by his physical ability and how his tiny short legs can keep up with our brisk pace. He's definitely the fittest frenchie in Yangzhou.
Niu Niu tries to teach Kin make coffee and explains patiently how the ratio of coffee powder, milk, temperature and pressure, etc. affect the taste and texture. But Kin is clumsy and carefree by nature. You can tell when he had made himself coffee just by looking at the counter – coffee powder scattered scantily all over the counter. Poor Niu Niu and Tao Lin, her colleague often joked about his mess and had to clean up after him.
As we spend much time at the café, we get to meet Niu Niu's friends and her regular customers. Songshu (松鼠) is one of the customers who comes a few times a month. She likes to have coffee before picking up her son from school. She has a lovely velvety voice. She loves Hong Kong movies from the 90s and often practices the odd Cantonese phrases she remembers from those movies when we talk.
Kin's favourite activity at Niu Niu's café is having afternoon tea. Niu Niu always says that she won't have any but of course she can't resist in the end. Then she will say that she won't have dinner (of course that's not true). He has bought all kinds of different ingredients to make pancakes, toasties and toasted mochi (Japanese glutinous rice cake), etc.
Sometimes we had shaobing (燒餅), a local pastry that is basically flour dough with sesame sprinkled on top baked in a hot metal drum barrel. It can be either savoury with stuffed shredded radish or peppery salt or sweet with red bean paste. Another favourite is the local mooncake (月餅) which unlike the traditional sweet red bean paste ones we have in the south, has very tasty minced pork filling with flakey pastry on the outside.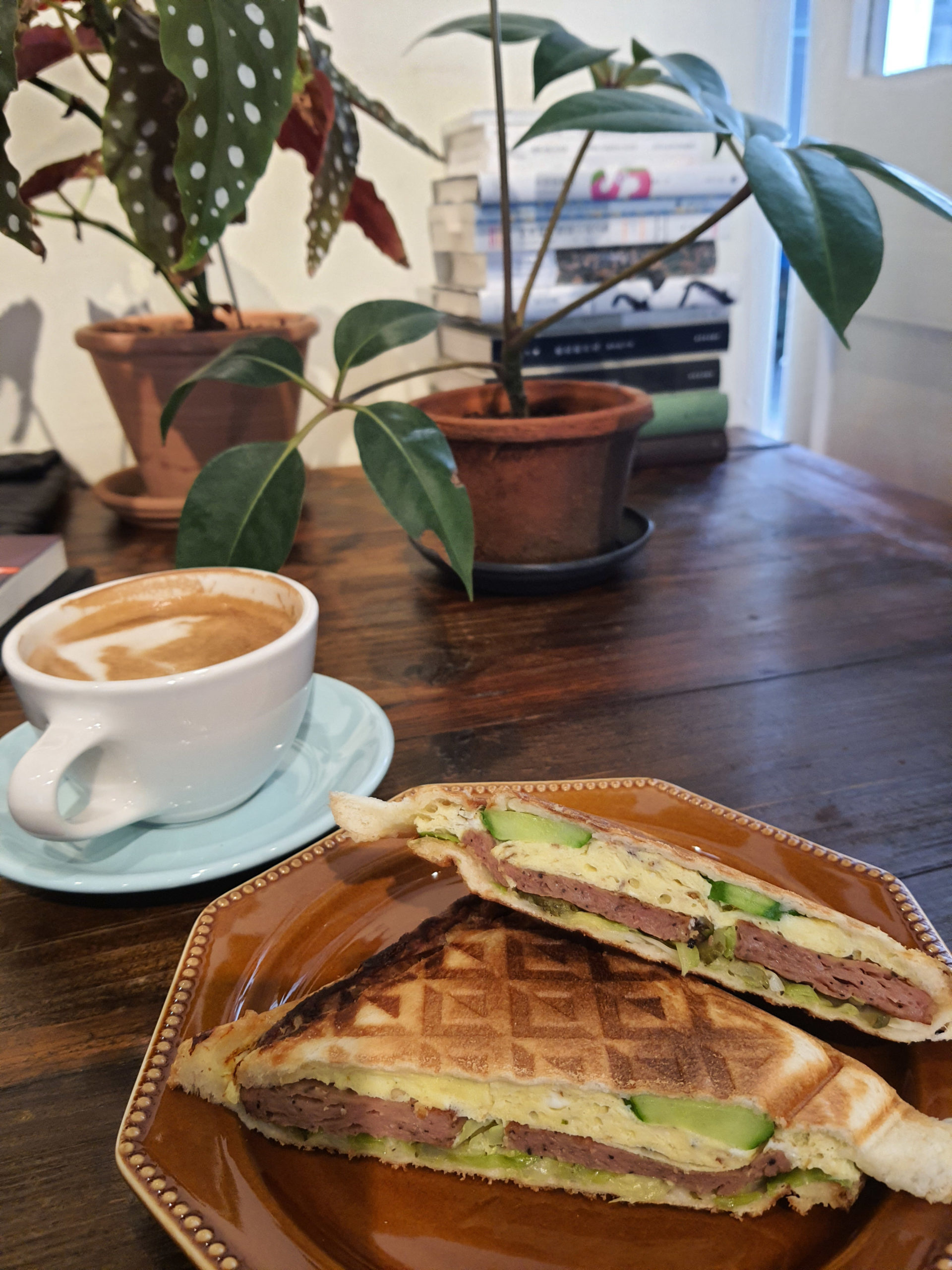 Niu Niu has a loyal customer who comes in every single day and only orders iced Americano. So we call him Mr. Americano (美式大哥). You won't miss him when he walks into the cafe as he is 6.5 feet tall. He loves pets and dotes on Monkey, with dog food and snacks. Monkey would get into a spirited frenzy whenever Mr. Americano comes into the café and sneak between his giant feet and wiggle sideways with his belly up. He often gives Monkey a belly rub and it soon becomes a playful wrestling game – it's certainly hilarious to see a hyperactive Frenchie tussling with a giant.
Mr. Americano has an office behind the coffee shop and it soon becomes Monkey's second home. He knows his way and often wanders back and forth. One time, Monkey acted strangely soon after we began our walk and slowed down dramatically when we passed a little alley. He turned his head once and seemed so lethargic that we thought he was tired and didn't want to walk.
Just when we were thinking that we might cut short our walk, he turned his head again towards the direction of the café. So we turned back and instantly Monkey picked up his speed. Before we knew it, he made a swift turn towards the little alley and started running. Then it dawned on us that we were totally outwitted by Monkey since all this time he just wanted to go to Mr. Americano's place.
Niu Niu has quite a green thumb and customers often admire her collection of plants and flowers. Mr. Americano recently planted some tomato and chilli seeds and various flowers in the front yard of his office. Then he discovered that an old lady kept stealing his soil. Apparently he is not the only victim and everyone knows her in the neighbourhood.
Soon Mr. Americano installed a security camera and caught the old lady in the act at night. Kin suggested that he should print it out and posted it up as deterrent. But Mr. Americano is more diplomatic and he told his neighbours that he has installed the security camera – knowing that it will soon reach the old lady's ears since there's no secret in such a small community. When he checked the security camera recording, Mr. Americano discovered that apparently one of his neighbours take long circular walks at 3am. It shows how lively it is living in these old neighbourhoods.
We haven't celebrated birthdays with friends ever since we are on the road. So it's amazing to find out that Niu Niu's and Kin's birthdays are only a few days apart. And what's more incredible is that Kin and Mr. Americano have the same birthday. So we had a joint birthday party at the café and I cooked for the special occasion.
As the old Chinese adage goes, "we depend on our friends when we are away from home". Our lives in Yangzhou would not be the same without all the lovely friendships we have developed over the past six months. We will miss them a lot, especially Niu Niu and Monkey when we leave.