We met Harmony and Catherine, two bubbly women from Guangzhou on our last morning at the guesthouse near Linzhi, Tibet (西藏林芝山南) but already sensed their super outgoing vibe. Little did we know that we would meet up again in Lhasa.
About an hour into our drive to Shannan (山南), the guesthouse owner Mr. Wu (吳濤) who I talked about in our stay in Milin (林芝米林) messaged us that we had left behind a cable in our room. Since Harmony and Catherine were also heading to Lhasa, he asked them to bring the cable for us. We met up five days later in Lhasa. They told us that Mr. Wu repeatedly reminded them to contact us and return the cable which shows how kind Mr. Wu is. As Harmony and Catherine had no concrete itinerary, when we mentioned that we would take a short trip later, they decided to join us. After brief discussion, we set on going to Lake Pumoyongcuo (普莫雍措) which is supposed to be very beautiful.
We did not fix a meeting time and decided that we would message each other when we got up and then decided what time to meet. So on 17 September, the four of us plus Daisy and Lavender left Lhasa just before noon and headed south.
Our first stop was the famous Lake Yangzhuoyongcuo (羊卓雍措), one of the three sacred lakes in Tibet. Harmony and Catherine had taken a half-day trip to the lake before and they reminded us to take the private car lane when entering the ticketing area so that we could skip buying tickets. Lake Yangzhuoyongcuo is so vast that Lonely Planet describes its size as equivalent to 70 Xihu of Hangzhou (杭州西湖). There are even a few populated islands in the lake, which tourists can visit.
We drove along a rather sandy and dry valley for sometime and just when we were wondering how far away the lake was, all of a sudden an enormous blue lagoon appeared on the left and we all yelled aloud as the contrasting scenery just took us by surprise. It was sunny and at the right angle from the sun, the lake was crystal blue and calm. There were not many tourists and we took some photos and continued our way. As we drove further along the lake, more clouds gathered and part of the lake lost its blue lustre and turned paler and grey.
The route was very scenic and we saw a series of snow mountains, which were beautiful even with only a little snow left at the top. After driving almost six hours, we arrived at the checkpoint of Lake Pumoyongcuo (普莫雍措). We are quite used to checkpoints (and there are plenty in Tibet) where we have to show our residency cards or ID cards. After looking at our IDs, the officer asked for the travel permit. We hesitated for a second and then realized that he was asking for the border travel permit (邊防證). Only then it dawned upon us that it was a border checkpoint as apparently the Lake Pumoyongcuo (普莫雍措) is close to the border of Bhutan (不丹).
You probably know by now that we were so casual about our trip that we were clueless as to what direction we were heading. Kin and I luckily had already applied for the permit the day before as we planned to go to A Li (阿里) in October which requires the travel permit. So we were ok but Harmony and Catherine did not have the permit as it was a spur of the moment decision for them to go to the Lake Pumoyongcuo (普莫雍措).
While Kin and I waited inside our van, Harmony and Catherine did their best to persuade the officer and told him that they already booked the accommodation at the lake and the guesthouse owner did not mention that they needed a permit. But of course it was no use. They asked us to go ahead and drive to the lake and they would look for another place to stay. But of course we could not leave them behind by themselves. So in the end we cancelled the original accommodation booking and carried on driving to the nearest town to find alternative accommodation before it got dark.
As we drove on, we continued to admire the beautiful snow mountains and we drove pass a small green lake. It is in fact the Manla Reservoir (滿拉水庫) but it is beautifully shaped and quite breathtaking. Harmony was desperate for the toilet and we went up the viewpoint first. When she finally came up, she warned us not to use the toilet as it was so vile that the other woman who went in before her vomited violently afterwards. Although the public toilets in China have improved a great deal the past ten years, Kin and I usually opt for outdoor solution whenever we are in the countryside.
We drove about 65 kilometres further and arrived at Jiangzi (江孜) by half past eight. We looked for accommodation and for the first time in our trip, Kin and I encountered problems checking in at the hotel as their computer system could not accept our Guangzhou residency cards. In China, most hotels and guesthouses only accept mainlanders. Tourists from Hong Kong, Taiwan and Macau can only stay at designated hotels. Since we have worked and lived in Guangzhou for eight years, we have Guangzhou residency cards but it is still different from the local IDs and may encounter problems.
In the end, Harmony and Catherine booked two twin-bed rooms at another hotel. The woman at the reception was a little puzzled when they asked for two twin-bed rooms and they had to explain that one of them snored badly and therefore the need of separate rooms. Fortunately, the woman was seldom present at the reception and they easily smuggled our luggage as well as Daisy and Lavender (luckily they did not make a noise) into the hotel. Kin and I sneaked into the hotel after dinner.
The sudden change of plan and hiccups did not stop us from having a good time. Although Jiangzi is small, we had a lovely time and spent hours at its Zhongshan Fortress (宗山古堡), which overlooks the town and was a strategic spot during the fight against the British occupation in the nineteenth century. We also had a tasty dinner at a Muslim restaurant and we went back for lunch. After our late lunch we headed towards Rikeze日喀則). Although it was only 94 kilometres away, we did not arrive until after 8pm as we stopped for a leisurely coffee break and visited a small temple just outside Rikeze (日喀則).
At one point, Kin and I thought about driving back to Lake Pumoyong (普莫雍措) on the third day while Harmony and Catherine could take the train from Rikeze (日喀則) back to Lhasa. But the guesthouse by the lake was already fully booked. So we quickly regrouped and decided that all of us should go to Lake Namucuo (納木措)
The next morning, we headed to Lake Namucuo (納木措) and stopped at Dangxiong (當雄) for the night so that we could set off to Lake Namucuo early the next morning to get a full day to enjoy the place. Lake Namucuo (納木措) is a renowned salt lake that looks more like the sea with its endless shoreline, splashing waves and steady wind. Many people spend one night camping outdoor to enjoy the starry night and if lucky watch the sunrise the next morning.
Given our relaxed way of travelling, we were not keen on watching the sunrise. Getting on the road at 8:30am was already considered very early for us. We got to the Namucuo entrance gate just before 10am and 30 minutes later, we found ourselves mesmerized by the Lake Namucuo – the varying shades of blue dotted with white crests and outlined by the ebbing waves. Driving here made one realize how insignificant humans are as we drove through the infinite sandy flatland surrounded by the awe-inspiring mountain ranges.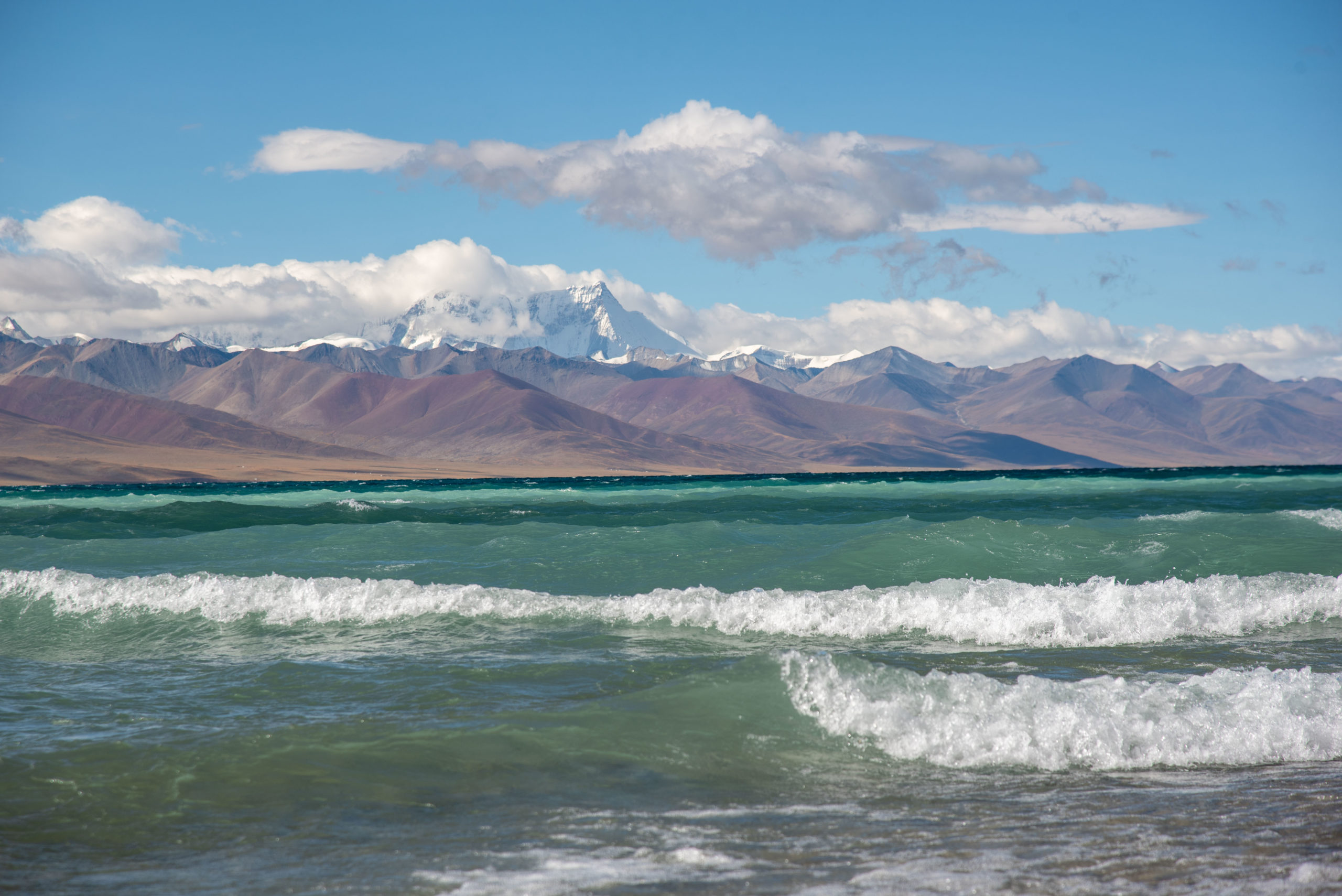 Even though I have been staying at high altitude for six weeks, my head started aching ever since we reached just over 5000m at one point on our way to Dangxiong (當雄) . I had to take painkillers and could only walk slowly along the lake, which was at 4700m. We stopped at the Zhaxi Peninsula (扎西半島) and slowly walked along the lake shore and around the peninsula. Despite the annoying headache, I was truly in awe of the astounding landscape and scenery.
We got back to Lhasa just after 9pm and we were all exhausted. We covered over 1,000 kilometres in four days and it was quite a long distance for Kin and I, as we have never driven consecutively before. We had a blast with Harmony and Catherine as we share similar carefree spirit. We got on famously and had a lot of laughs and fun together. Lavender also loved hanging out with them and played her favourite game of hide and seek in the towel with them.
After four action-packed days, I am so happy to be back in our cosy and quiet guesthouse. Four of us slept so soundly that we did not stir until after 9:30am the next day.