Our drive to Genie (格聶) from Litang (理塘) was adventurous to say the least as it was totally off the digital map and the road condition was rough. But it was totally worth it as the Genie Sacred Mountain range is simply spectacular.
When we were in Litang, we asked around about the road condition to Genie. Eventually we went to the youth hostel and were reassured that our van could get as far as the New Leng Gu Temple (新冷古寺) and the temple offers basic accommodation. It is always worth fact checking with the youth hostel, as they are helpful and familiar with the local road condition.
The remaining unknown factors were my physical condition and the weather, which were both beyond our control. So we played it by ear and hoped for the best. Since I felt fine on the third day when we went to the horse race, we decided to leave the next day provided the weather was on our side. On the morning of 3 Aug, we packed our bags and set off to Genie.
According to the destination we set on the mobile phone, it should take us about two and half hours to reach the New Leng Gu Temple. About five minutes after passing the main road sign indicating Genie, we reached a registration booth and saw ahead of us a great deal of on-going road construction. We were required to register for safety reason, as there were previous cases of people getting lost and even died when they were hiking in the remote areas of the mountain range. The man at the booth warned us that the road condition to Genie was not good and we reminded ourselves again that we had to be cautious.
Despite the roadworks, the first hour of the drive was smooth on mostly concrete road although we did have to tackle some intermittent bumpy patches. It gave us more confidence and we actually reached the pre-set destination earlier than expected. But we soon learned that it was inaccurate, as we did not see any temple or houses. So we continued to drive and stopped at the nearest village to ask for direction.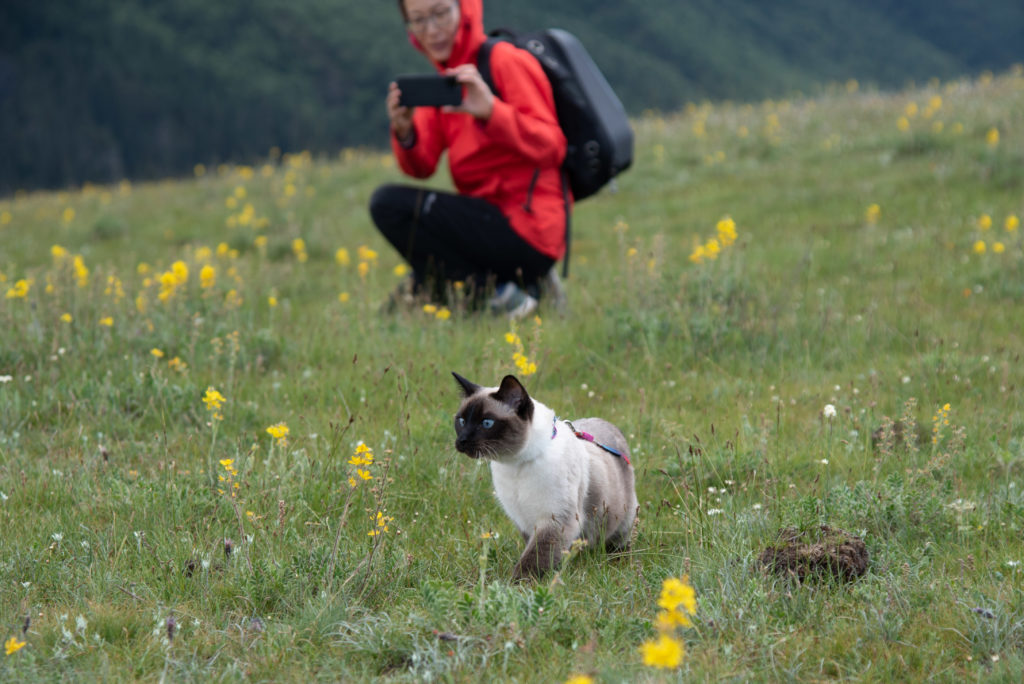 At the first village, we were told that we needed to drive another 20 kilometres. To play safe, we stopped at each village we passed through to get more instruction and it seemed our destination kept getting further and further away. We were advised to follow the old route, which was supposedly better than the new route due to the ongoing construction.
At the time, we certainly did not think that we were driving a better route as we found ourselves driving through non-stop zigzag dusty grovel paths. But we were much encouraged by the amazing scenery and the towering Genie Sacred Mountain range along the way. We drove another 90 minutes and arrived at the viewpoint called the Eye of Genie. We let Daisy out to explore and she was fascinated by the vast meadow.
When we drove down the rocky path into the next village, we saw a few villagers sitting by the road with their heads all turned to us. They probably thought that our van was the slowest vehicle they had ever seen as all the other cars nimbly sped through. After negotiating seemingly endless rocky trails, we finally saw the New Leng Gu Temple in the distance surrounded by beautiful mountains. It is so remote and yet graceful that it looks like a scene from one of those kung fu movies in which recluse monks meditate. It surpassed our imagination as we were expecting a small temple. Despite the two-and-half hour driving eventually turned into six hours, we were extremely happy as we set eyes on the magnificent mountains against the serene temple.
The accommodation at the temple overlooks the Hu Pi Ba valley (虎皮垻), which is a great spot for camping. Temperature range in high altitude is huge and even in August; it can be as hot as 28C under the sun and drop right down to under 10C at night. We came well prepared and felt pretty snug in the room with our little fan heater on full blast at night.
We took it easy the first day to recover from the drive and strolled around the temple ground and the valley. We watched the Tibetan monks debating and soaked in the beautiful meadows and mountains – just the kind of relaxing first day we needed.
The second day, we did the 4km hike to the original Leng Gu temple (老冷古寺) in the middle of the snow mountains. I deliberately paced myself very slowly to avoid breathlessness and headaches. We hiked along the small stream and it was very soothing as I listened to the sound of the flowing water while taking in the incredibly stunning view. I felt as if I was in Switzerland – in fact even more beautiful as it was so remote. I kept telling Kin that I was so refreshed by the hike as if I had taken a dip in the pool of serenity and my whole body felt cleansed. Now I understand why people are willing to pay so much to go on retreats in some off-grid places. I am glad that we get this chance to spend time in such beautiful nature and we only needed to pay RMB140 for the room.
The old Leng Gu temple looks rather aloof among the surrounding glaciers and mountains. It is over 300 years old and belongs to the Gelug (格魯派藏傳佛教) branch of Tibetan Buddhism. It overlooks a tiny village, which looks rather deserted – we think only a few families still live there. We saw many antelopes and goats roaming around the mountains and played hide and seek in the dilapidated houses.
We could tell that the locals live harmoniously with the wild animals as they were not afraid of us. The wild goats outside the old temple went up to Kin and he could stroke their heads. At the accommodation, each day we saw the same squirrel darting in and out of the dining room to look for food. There were also two deer that often came over and stayed in the car park.
We stayed off-grid ever since we drove into the mountains and there was no hot shower at the accommodation. I boiled hot water to wash my face and feet. On the third day, things got more interesting as we lost electricity in the afternoon. We were prepared for this scenario as we have installed a solar panel on our van. So we could cook outside our van with solar-charged power. It was the first time in our trip that we cooked outdoor and it proved that our electrical system works. We enjoyed cooking and eating outdoor while admiring the beautiful nature. We also have chargeable lights for indoors.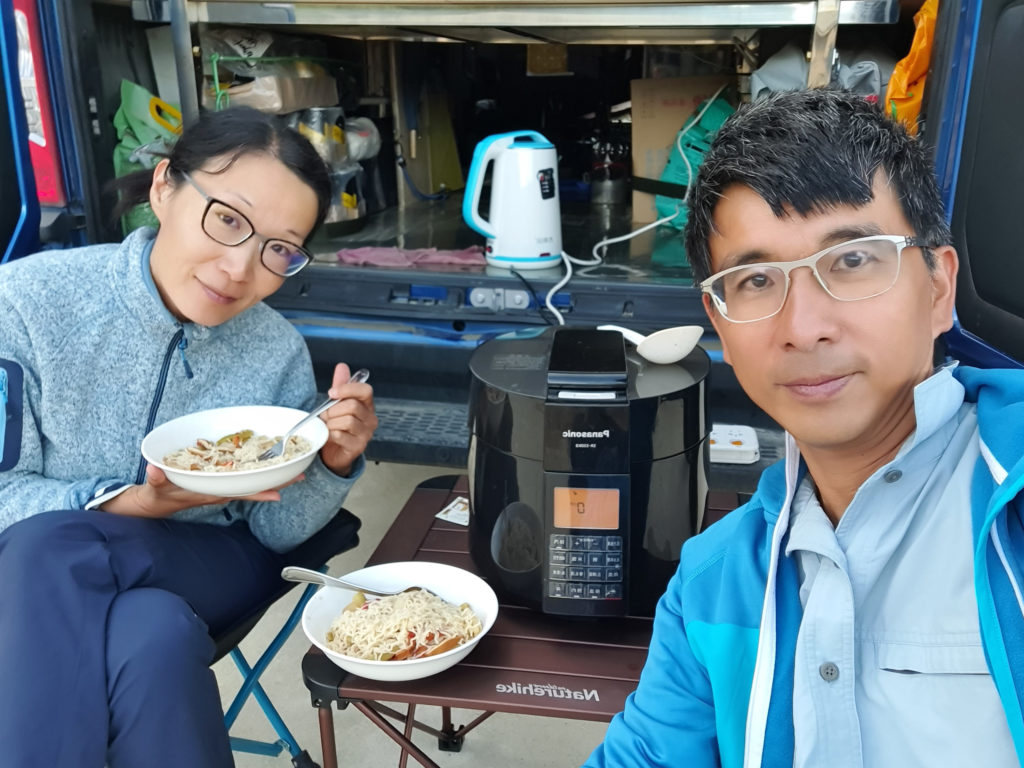 At every guesthouse or hotel we stayed, most guests arrived in late afternoon or evening, stayed one night and then were gone first thing in the morning. We were the exception as we always woke up after the other guests left and we stayed at least three nights. We were amazed by such whirlwind style of travelling but I guess for many local tourists, the goal is to cover as many destinations and get as many snapshots at the famous viewpoints for their relatively short vacation. For some of those who drive to Tibet, they want to complete one of the incredible routes to Tibet and they spend most of the day driving and only stop when they need to sleep in order to finish the route in two weeks or even shorter period of time.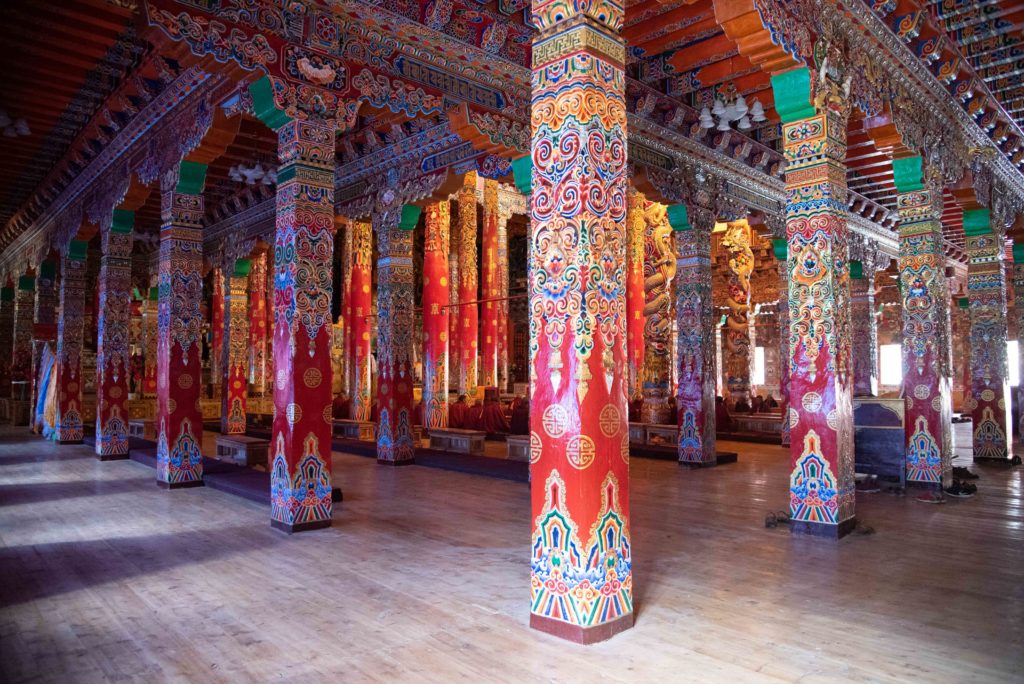 So at Genie, we saw guests and cars come and go (actually we barely saw they leave as we were still sleeping). One day, a couple from Shenzhen arrived in the evening. The husband was excited to know that we came from Guangzhou and we got talking. They flew to Chengdu two days ago and already covered hundreds of kilometres. I suggested him to do the hike to the old temple. When he realized that the hike is longer than two kilometres, he said that they had high altitude reactions and also they needed to take off first thing in the morning. They did not even see the new temple next door and rushed off at 8am the next day. It sounds insane but let me reassure you that this is quite typical of local travellers.
We stayed in Genie for five nights despite the power cut, as it is so beautiful and peaceful. We also enjoyed talking to the woman who takes care of the accommodation. We call her A Yee, (a name commonly used in China for females who are over 30s and work either as domestic helpers or in this case clean and cook for the accommodation). Both she and her husband are from Sichuan and her husband oversees the renovation and expansion of the temple. They have a daughter who is studying to become a teacher. We often talked over our meal in her makeshift kitchen, sitting next to the wood fire stove which I am sure was the warmest place in the entire Genie. Kin helped her in the kitchen once when she had to cook for both the guests and workers. As A Yee was always busy cooking or cleaning, we often called out loudly when we saw guests arriving to let her know that someone was looking for accommodation.
We loved A Yee's cooking especially her soup noodles that we had for lunch and sometimes for breakfast. Since we do not eat meat, she put freshly picked wild mushrooms from the mountains and pak choy in the soup and it tasted so yummy that we ended up eating too much each time. The thing with plant-based and less oil diet is that we can eat a lot but still feel hungry quite quickly. As we are on the road for a long time, we are careful with what we eat and try to cook our own meals as much as possible. We make our own breakfast and dinner and sometimes eat lunch outside when we are sightseeing. We always ask the restaurant not to use MSG and chilies and use less oil. The reason being most restaurants on our route are run by Sichuan people who have a penchant for spicy and oily food.
On the fourth day, we asked to use A Yee's hotspot to send a short message to our family to reassure that we were safe. Afterwards, she asked if we could help her install an app on her phone. Since both she and her daughter did not remember the password for the Apple ID, Kin tried to reset a new one for her. Then we realized that her mobile package only has data and does not support SMS services or voice calls. So Kin could not do it in the end. This is not uncommon in China as voice calls are expensive and for most people who are illiterate like A Yee, they only use WeChat on their mobile phones.
We also had brief encounter with the lamas. One time I was in our van, suddenly the side door was opened from outside and a lama poked his head in. He was clearly looking for something and mumbled something that sounded like "bird". Apparently he was looking for our lovebird and I told him that she was in our room. I promised that I would bring her out the next day. The whole encounter reminded me of the youngest son of Mr. Sang – the same childish directness that I find both amusing and refreshing. The next day, when he saw Lavender in the cage, he was very curious and patted on the cage a few times.
I learned a new skill of going to the toilet in utter darkness after three powerless nights. We really enjoyed our "primitive" time in Genie. We set off to our next destination Batong (巴塘) on a rainy morning but we never imagined that it was going to be the toughest and most exciting drive we ever experienced in our trip. It took us 10 hours to drive 210km and we drove through small streams, falling rocks and even had to drive in reverse direction down a tiny narrow dirt trail to reach Batong. We have compiled a video below to let you get a taste of our thrilling drive and our time in Genie.
Accommodation: 新冷古寺