China has many so-called ancient towns (古鎮) but they are sometimes overrated and too commercial. We decided to give Shaxi old town (沙溪) a go as from what we read, it sounds rather appealing and tends to take a back seat on the list of most popular destinations which is just what we like about it.
We started driving to Shaxi at 8pm after a long hike at Ji Zu Mountain (雞足山) in Dali (大理). It quickly got dark, which made the drive through the mountains rather daunting. We did not book any accommodation but I did contact a guesthouse that was just outside the old town to ensure that they had rooms available. When we finally arrived, I was relieved to see that the guesthouse was an authentic old ethnic house (白族老房子) that looked welcoming even in the dark.
Normally at this time of the year, one has to book accommodation way in advance. But due to the coronavirus impact, people were still wary of travelling or not in the mood to take a trip. The travel and hotel industry are badly affected and lowered their prices significantly to attract tourists. So we have been lucky to enjoy low prices for decent accommodations. We stayed in a fair share of nice guesthouses and apartments. But our stay at the Shaxi guesthouse was unique as we met some really interesting people and we actually changed our travelling route because of them.
First, I want to talk about the owners of the guesthouse. We came to the guesthouse when the original owner who is a young woman (she is 30 years old) just sold the guesthouse to the new owner Mr. Gan (甘先生)who is a 50 something man from Kunming (昆明) and arrived on the third day of our stay. They cannot be more different in personality as the original owner is reserved, gentle and soft-spoken whereas Mr. Gan is super talkative and outgoing. It is quite funny to see the young woman telling the older Mr. Gan all the operation details and how to run the business.
We admired what the young girl has achieved with the guesthouse which we think is the best in the area in terms of how she has preserved the authenticity of the old house while adding modern and stylish modifications and comforts. The guesthouse has only six rooms and therefore very cosy and quiet. It has a standalone and spacious living room overlooking the cornfields and the owner has a sophisticated collection of Chinese, Japanese and English literature for the guests to read (we later found out that the girl studied IT and Japanese at the university). You can watch television, read, enjoy tea or coffee and of course interact with the other guests.
When we first arrived, there were two couples already staying at the guesthouse. They were two sisters from Shanghai travelling with their other halves. They booked for a whole month and the guesthouse provided all their meals. Since they have retired, they usually spent half year in Hainan to get away from the cold winter in Shanghai and other time travelling. They went abroad at least once at year. But due to the coronavirus, they were stuck in Shanghai and the moment they could get out, they went to Sha Xi. In the morning, they would enjoy tea, read or watch TV in the living room. Then in the afternoon, they sometimes went out for a stroll in the fields or the neighbouring village. They really know how to enjoy life in leisure.
One of the husbands was very good at killing flies with a flimsy plastic insect bat. He waved the bat like a badminton champion and could attack over 20 flies in half an hour. It was fun watching him in action and I could tell he loved every second of it. One of the sisters was an editor and she always worked on her notebook. We exchanged experiences of our travelling both abroad and in China.
Daisy found herself an admirer as the guesthouse has a moggy called Xiao Ming (小明). The cat was rather shy and roamed around in and near the guesthouse during the day. But he was very interested in Daisy and would nap or watch Daisy outside the large window of our room or our small patio. Each evening, he would meow loudly and the young woman (the original owner) would come out to spend some quality time with him and feed him before putting him to bed in the living room. The young woman was thinking of leaving Xiao Ming at the guesthouse when she leaves as she was worried that Xiao Ming is already used to the freedom of the countryside and would not adapt well to the city life and living in an apartment. But we persuaded her to take him with her as we could see that Xiao Ming was very attached to her.
We loved spending time in the guesthouse as there was always something happening. One day, A Yee, (阿姨) the local woman who cleans and cooks at the guesthouse invited us to her house. Only then we learned that she is in fact the landlord of the guesthouse. Her family owns a lot of land in the area. She is modest and works so hard and yet she is probably the richest among all of us.
Then on another day, A Yee picked plums from the plum trees at the guesthouse. We saw how she prepared the plums to make vinegar. We also tasted the best (also the strongest) homemade plum wine. A Yee is a great cook and we ended up eating many meals together with them and other guests.
One day just after breakfast, A Yee just picked some huge fresh porcini mushrooms that were in season. We all went outside to admire them and the Shanghai couple bought one of the huge ones for lunch.
On the fourth day, another couple from Chengdu (成都) Mr. Fan and Mrs. Fan(樊先生樊太)arrived with their two dogs. From then on, we had dinner with them and Mr. Gan every evening. Kin would carry on talking with them on any topics ranging from ghost stories, religion, and economy to politics till after 11pm. I sometimes took part in their discourse and it was intriguing to see these three middle-aged guys from very different backgrounds bonded with such kindred spirit. They all had their own opinions but they were also eager to hear what the others had to say and learned from each other.
Mr. Fan comes from an interesting family as his father was a Tao master and he told us some fascinating stories about his father. Not only is he kind and down-to-earth, he is also a seasoned traveller. He emphasized that driving depends on the weather and we must always check with the locals about the road condition before deciding on the next destination. It was him who advised us not to go to Tibet via Yunnan during this time but via Sichuan due to better road condition and rain season. We are so grateful as it really made our lives so much easier and more interesting.
Mr. Fan and Mrs. Fan are the prime example of "opposites attract" as Mrs. Fan is the complete opposite of his husband. She is super energetic and a fast talker. If she wants to do something, she does not wait for anything or anyone. Mr. Fan is mellow and he talks like a wise guru – one feels very relaxed listening to him. Mr. Fan told us an anecdote to show how his wife and her family are the same. One time, a fire broke out in the building his mother-in-law lives and she was cooking at the time. She ran out of the kitchen without even switching off the stove and ran out of the building without calling anyone. Amazingly his wife agreed as she admitted that she did something similar when she experienced earthquake when she was working at the hospital.
You might start wondering if we ever left the guesthouse to explore Shaxi? We did stroll around the ancient town a few times and it is charming and pretty. Shaxi has been beautified for the tourists but it has kept its quaint nature. We walked along some pretty alleys with nice small shops and cafes run by young people from other provinces. We frequented a lovely vegetarian western restaurant called the Hungry Buddha a few times and we even went grocery shopping with the two local girls who work in the restaurant on market day. We actually met the owner of the restaurant in Dali (大理) previously. She recommended that we should spend a week in Shaxi, which we did.
One of the girls at the restaurant invited us to visit her house on her day off. She is very young (24 years old) and already married twice and has three children. She is from a nearby village of the Yi ethnic group (彞族) and her life is pretty hard. While she works full time at the restaurant, she also needs to look after her children as her husband (who was absent when we visited) has some disability and clearly does not help with any household chores nor take care of the children. She also told us that her husband is heavily in debt and the creditors kept calling her. We strongly advised her not to answer the calls as it is solely her husband's responsibility, not hers. From the time we spent with her, we know she is smart but she is handicapped by her illiteracy and lack of choice. We learned that her situation is quite typical as girls like her from relatively poor families tend to marry badly as they are obliged to get married really young and produce boys. They are often trapped in bad marriages and have no way out.
We spent more than half a day at her home and I ended up cooking lunch for her and her mother-in-law as she was just too tied up with the children. We encouraged her to work hard at the restaurant. We reminded her that since the other girl at the restaurant has resigned, the boss has to spend more time at the restaurant and it is her chance to learn from the boss how to run a restaurant. Given her outgoing nature, we hope that she could be independent and get out of this predicament one day. She told us that another customer visited her recently and sent her books afterwards, hoping that she could learn to read. We are happy for her that she has friends who could help her and we urged her to learn how to read and write. Currently she could not take orders, which really limited her opportunities.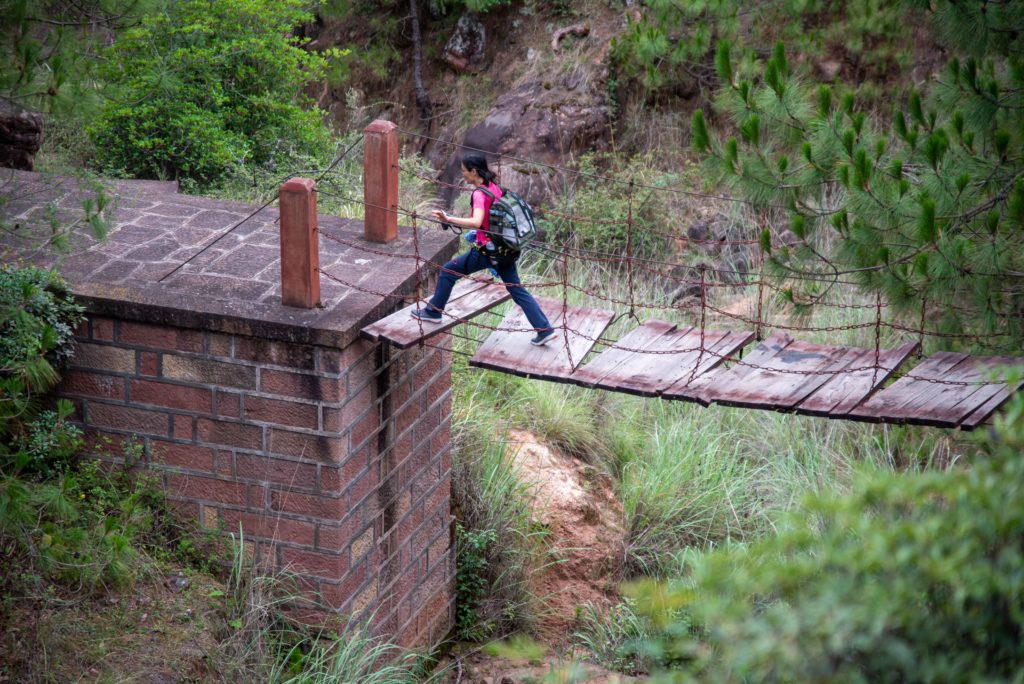 The guesthouse is situated at the start of the Shibao Mountain (石寶山) hiking route to Shizhong Temple (石鐘寺) and along the route there were some ancient stone carvings and impressive boulders. We went hiking one day and told the guesthouse that we would be back for dinner with them. We could see the whole of Shaxi near the top of the hill. We got back to the guesthouse just before 6:30pm and it was such a warm feeling to see that everyone was waiting for us for dinner.
We had such a great time with everyone at the guesthouse that it was sad to bid goodbye. Mr. Fan suggested that we should get together again the next Chinese New Year and we gladly agreed. We have kept in touch ever since we left Shaxi and he gave us so many useful travelling tips. He did a 1,900km road trip from Chengdu (成都) to Hainan (海南島) in August. He also invited us to join him for a trip to Xinjiang (新疆) but unfortunately it coincided with our plan to go to A Li (阿里). But we definitely will meet again for the Chinese New Year. We feel so lucky to have met great friends like Mr. Fan and we look forward to seeing him and his family again soon.
Accommodation: 劍州沙溪遂清客棧