If you are wondering how our furry children are these days, I can happily say that they are doing great. I know it sounds silly but I am proud to report that Daisy can now pee and poo in the van when she feels the need. She even walks around the van and demands food when it is on the move. Believe me, this is a major breakthrough as it means that she is now relaxed enough to be herself again on the van.
Lavender loves travelling in the van as we let her out of the cage and she always demands snacks by biting me lightly or stands on her snack container and starts chirping loudly. She expresses her needs very clearly. Driving with her is like taking a small child travelling and I must always have her favourite food ready to prevent her from having a tantrum.
As we do not want to tire our furry children out, we cover much less distance daily than most travellers and get to explore less popular towns. After the eastern gateway of Mangkang (芒康), we passed through Zuogong (左貢), another small town that went through similar re-development. Our guesthouse was in the new part of the town, which was only built two years ago. It was built by one developer and had the same uniform architectural style.
Many guesthouses and restaurants are run by Sichuan people (四川人) as wages in Sichuan in the old days were not attractive and many of them left home to find opportunities elsewhere to earn a better living. Our guesthouse owner is also from Sichuan and he used to run another guesthouse in the old town. He started the new guesthouse last year but due to the coronavirus, he could not open until this May.
At first, I found it strange that there was no one manning the reception in the morning. Then I realized that each morning the owner and his wife had to wash the beddings on the rooftop. The owner told me that they prefer to do it themselves to ensure the cleaniness. It was certainly hard work as there are over 30 rooms and his wife has to make the bed afterwards.
We stayed in Zuogong (左貢) two nights, explored some tiny villages nearby and were back on the road towards the west to Lake Ranwu (然烏湖). We had been lucky that we did not encounter serious traffic jams due to landslide after heavy rain thanks to the valuable advice of our good Chengdu friend Mr. Fan (樊先生) whom we met back in Shaxi, Yunnan (雲南沙溪) to monitor the weather to avoid badly flooded areas. Travelling at a slow speed has its merits as by the time we passed through certain places, the heavy rain already stopped and there was time for the armed police to repair the damaged spots. With the emergency construction, only one way traffic is allowed and cars need to queue for over an hour before the opposite traffic is cleared. We only experienced one such traffic jam and we saw a long line of cars ahead of us. Kin decided to follow the local car before him who carried on driving on the opposite lane and then cut into the very front of the queue. That was a bold but clever move as we ended up overtaking 60 cars and saved at least an hour's waiting time.
We drove along three very long rivers Lancangjiang (瀾滄江), Yuqu (玉曲) and Nujiang (怒江), there was so much water and the river looked quite angry at times. We drove up and down many times and at one point dived into the scarily steep valley renowned for its dizzying bends called "72 bends of the Angry River" (怒江72拐). We arrived at Lake Ranwu in the evening, I cooked a simple dinner using our pressure cooker and had a movie evening with our Mac mini – one of the luxuries we have kept in our travel.
Although the water was muddy, Lake Ranwu (然烏湖) looked pretty enough. I learned later that the best time to see the lake is in winter. But we were not disappointed as we just happened to see a herd of vultures flying and we followed them up a village and realized that they were just at the end of a sky burial. We continued driving up the slope to a temple and saw the lake top view from the hill and the water was glistening and quite magical.
Kin found out when talking to a local girl who worked at our guesthouse that she lives in Laigu Glacier (來古冰川) and that we could stay at her house. We jumped at the chance as outsiders are not allowed into the glacier unless you stay at the Tibetan guesthouse (藏家樂) or you paid a few hundred yuan to the locals at the gate of the village to get a short horse ride (a few hundred metres long) to look at the glacier at a distance.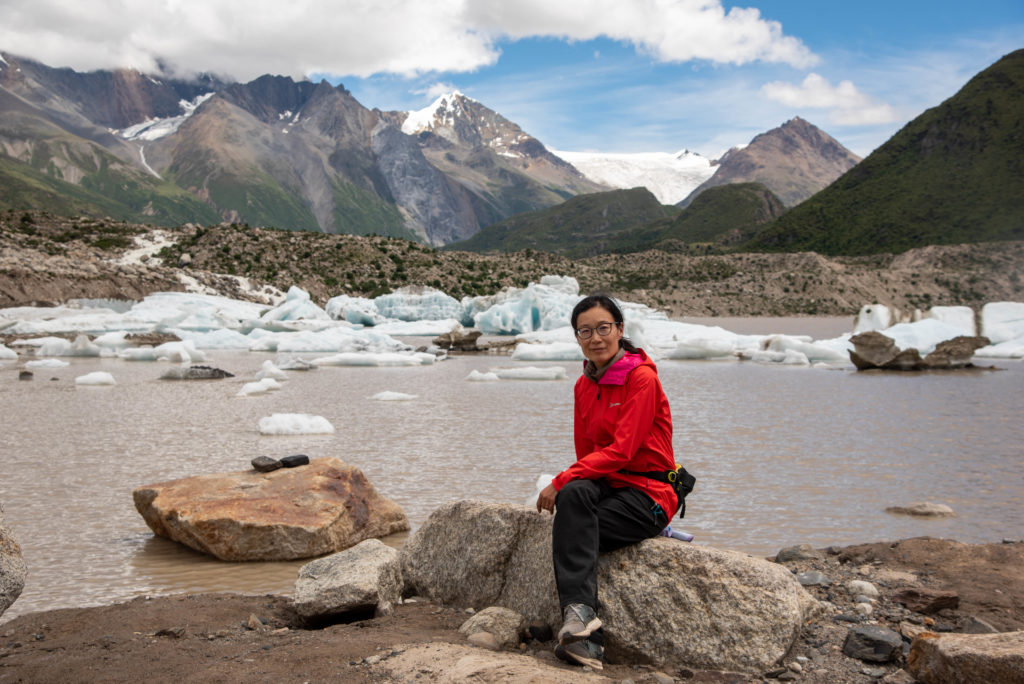 The girl warned us that her house is very basic and we were mentally prepared for anything. She asked us to call her brother at the village gate to get permission to enter the village. We got lost a few minutes after passing the gate and a bunch of children gathered at our van. We asked them where the house was and they just left their bicycles on the road and got into our van to show us the way. On the way there, one of the boys suddenly ducked down. Apparently he saw his dad and he was not supposed to get on a stranger's car. I did wonder what his dad would think when he saw his son's bicycle abandoned on the road.
The house we stayed turned out to be on the very top of the village and had the best view of the glacier. The room we slept was cold, there was no bathroom nor toilet and we were told that we could do our business outside.
Let me tell you that taking a shit outdoor is not as free as you think. First, you need to find a spot away from the house and people. Just when I thought that I had found a perfect spot outside the rear gate and did my first shit, the next morning I realized that it was also the spot where the grandmother sat with her pot of tea and snacks everyday to enjoy the full view of the village and the highland barley fields. So basically she was sitting next to my shit from the day before. I felt really bad and all I could do was to nod and smile when I saw her sitting contently and eating walnut.
Needless to say that it took me a while to find another spot to relieve myself. I wonder where the family does their business, as I could find no trace around the house. The other puzzle is how they clean themselves afterwards, as I did not see any tissue or anything of that function around the house. I guess it is one of those mysteries that will remain unsolved.
By the time we got up and went to the dining room for breakfast the next day, the father and mother had already gone to work on the field. Their daughter was also getting ready and headed to the field. It was the harvest time and everyone was busy. They came back for a simple lunch and would be back on the field until sunset. As the sun does not go down until after 8pm, they have dinner quite late.
The father is hardworking and he cooks dinner for us and the family. He always smiles and making sure that we had plenty to eat and drink. The whole family is very close and they talked and laughed when they ate together. They have two sons and two daughters. The eldest son is married and he is away rearing cows. The older daughter works at the guesthouse we stayed in Ranwu. We heard them talking to the older daughter on the phone after dinner and I could feel warmth and love in the air. The youngest daughter was on summer vacation and would return to school in Changdu (昌都) which is 357 km away.
We could tell that they really dote on their second son, as they would not start dinner without him even when the food was ready and they urged us to eat first. He does not have to lift a finger as his younger sister always gets the rice and chopsticks for him. Kin also observed when he was taking photos in the field that the son did not exactly help as he mostly watched his parents working.
We stayed with the family for two days and we loved being part of their daily life. Their almost austere life really makes me wonder why we city people are so wasteful. They live a truly sustainable life as they use what the nature offers them and eat what they grow. They burn pine twigs to cook and warm the living room. Their staple food is highland barley powder, potatoes and milk from their own cows. As they do not have a bathroom but just a tap at the entrance of their house, they do not waste water taking shower and only wash their hair and wipe themselves. Seeing how they live makes me feel a little shameful of all our modern comforts, which use so much energy and produce so much rubbish and wastewater.
Accomodations:
左貢雅致印象酒店
八宿星際酒店 (然烏湖)